About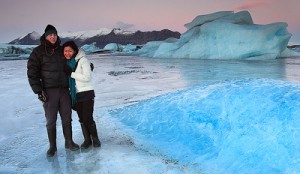 Behind Arctic Photo are two persons, Örvar Þorgeirsson the photographer and Kanya Hanklang (most people call her Mai) the store manager. It also happens that we are married. Örvar has been photographing since 2006 but we started this company in 2009 when we opened our Reykajvík gallery at Laugavegur 50.
Örvar Thorgeirsson Profile:
An mountain adventurer since his teenage years. On his many trips to the Icelandic mountains and wilderness the photographer became obsessed with capturing the raw beauty of the places he visited. Over the years he has captured Iceland's most wild places on his camera from the colorful and never ending midsummer arctic sunset to the inspiring displays of northern lights in winter.
Awards and Publications:
Global Arctic Awards 2014 Landscape Photograph of the year and Nature Ice and Icebergs Photograph of the Year
International Conservation Photography Awards 2012 highly commended landscape.
National Geographic Traveller Photograph of the year 2008, Merrid Award.
Astro Photographer of the Year 2011 – Highly commended for the Category Earth and Space.
European Wildlife Photographer of the Year 2011 – Highly commended in Natures Studio category.
Profile in Dutch Digi Magazine 2009.
Profile in Italian Alp Magazine 2010.
His photographs of the Eyjafjallajökull eruption where displayed in newspapers like the Daily Telegraph, The Sun, Daily Mail, Daily Express, Independent, Scotish Daily Record and other plus website publication in Fox News and the New York Times.
Exhibitions:
US embassy in Iceland 2014.
Flickr@Iceland charity exhibition in Reykjavík City Hall – 2009.
Astro Photographer of the Year Award, The Royal Observatory in Greenwich – 2009 and 2011.
National Geographic Photographer of the Year Award, PhotoPlus Expo New York. – 2008.
For a source of inspiration check out my Inspirational Photographers page.