July 3 – July 15
A yearly summer photo tour for the serious landscape photography enthusiast lead by native Icelanders Örvar Þorgeirsson and Skarphéðinn Þráinsson. Our goal is to assist you getting to the right locations at the right time for the best photographic results and this is why we have chosen late June and early July for this trip as this is the time of year in Iceland is famous for the endless soft light and combined sunsets and sunrises. We will sacrifice rest, comfort and luxury for better photo opportunities and we will use our expert knowledge of local conditions to "go with the light" as it changes.
Dates
July 3 – July 15 2016
Price
$5.950 USD
Single room supplement $800 USD
This includes:
Photographic tutoring and guidance.
Double occupancy accommodation for 13 nights including 2 nights at Hotel in Reyjavík at each end of the trip. We will be using comfortable farm stays and guest houses with shared bathrooms.
All transportation (4×4 where needed).
All meals (breakfast,  lunches (sometimes picnic-style), snacks, and hot dinners at our places of accommodation and/or restaurants).
Reservation
For reservation following policies apply:
Deposit
: $1000
Payment in Full
: (due April 1, 2016)
Maximum number of participants:
12
Cooperation with: 
Arctic Exposure travel agency
.
Available spots: 5/12

Leaders
Pro photographers Örvar Þorgeirsson of Arctic Photo, and Skarphedinn Thrainsson (Skarpi), native Icelanders will be leading the trip.
Both leaders have vast experience in driving, hiking, traveling and photographing the raw landscape of Iceland. Örvar is an award-winning Icelandic photographer
who owns a photo gallery in Reykjavik, and creates especially dynamic, sharp, and moody photos of Iceland. Skarpi is a Mechanical Engineer and Nature Photographer based in Iceland, Born in a small village on the east coast of Iceland, since childhood been living his passion of outdoors traveling, photographing and exploring the nature of Iceland. He's specializing his exquisite photography work on the nature of Iceland including volcanoes, ice caves, animals and classic landscapes. Skarpi also runs a postcard publication among other projects in Iceland.
The leaders are known for their unique style of low light landscape photography and nature shots of Iceland. Their images have appeared in numerous national and international publications, books, and calendars including Discover Magazine, National Geographic, USA Today to name a few.
These two pro photographers with their local knowledge, experience and passion of Iceland, will offer you a wide range of photographic help, experience and personal attention.
Contact
Örvar Þorgeirsson
Arctic Photo
Laugarvegur 64, 101 Reykjavík
Iceland
orvar@arcticphoto.is
Skarphedinn Thrainsson
Bugdulaekur 3
105 Reykjavik
Iceland
skarpi@skarpi.is
phone: +354 6174550
www.skarpi.is
Trip Summary – What to expect
This trip is for the serious photography enthusiast. We will spend as much time as possible in the field photographing the varied scenery around Iceland. In field assistance and comments on your work will be the main feedback on your work from the tour leaders but when time and/or weather conditions allow we will hold review of the images you have photographed on the tour.
The trip requires moderate physical fitness level of participants. We will do shorter hikes sometimes over rough, rocky or moderately steep terrain. No longer hikes are required though.
When in the highlands for 1-2 nights we will use comfortable mountain huts as accommodation. The facilities of those huts is more basic than in the guesthouses and hotels in the lowlands. By spending nights in the highlands we save valuable time on transportation to and from locations and this also enables us to stay much closer to interesting subjects to photograph, increasing out chances of getting good photographs.
You can expect long days in the field and some of the best days of our previous trips have lasted 18-22 hours (with a good rest afterwards). This is what Iceland is about in midsummer when you have light 24 hours a day.
Itinerary
Day 1

(July 3rd): Arrive and be picked up at Keflavik Int'l Airport and brought to your included accommodation. The rest of the day/night is free.
Day 2 – 3

We start very early, and first photograph the mossy lava fields of the Reykjanes Peninsula, and the must-see popular Golden Circle sights of Geysir (after which all other geysers are named), Gullfoss (Iceland's most famous waterfall), and Þingvellir National Park (the world's oldest parliament's meeting place and rift zone between the North American and European tectonic plates). We'll also find the locals' secret of Brúarfoss, a delightful miniature version of Africa's Victoria Falls.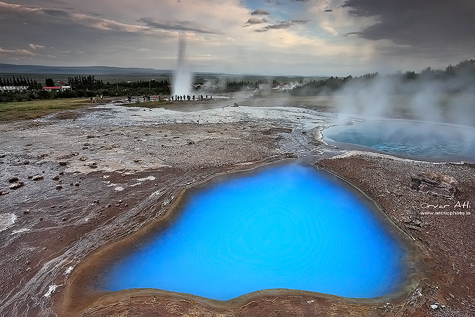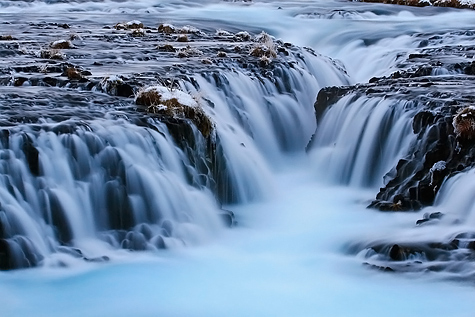 Day 4

We start the day in the Landmannalaugar region where we will explore more the varied landscape this area has to offer before heading towards the coast where we stop at the photographers favorite waterfall Seljalandsfoss. Driving along the steep mountains of Eyjafjöll (home of the famous Eyjafjallajökull volcano) we will shoot more waterfalls, old buildings and some Icelandic horses.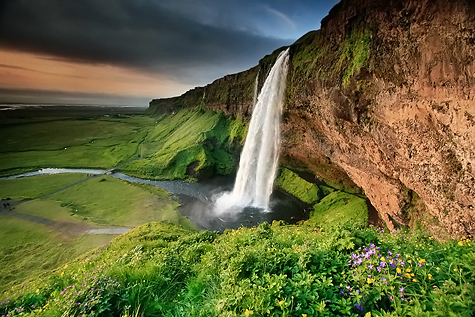 Day 5

The photogenic pinnacles of Reynisdrangar are first on the agenda along with the black lava sand beaches near Vík before driving towards Skaftafell. Along the way will stop at the moss covered lava fields of Eldhraun and some old farm buildings. At Skaftafell we will shoot the glaciated peaks of Mt. Öræfajökull in the soft evening light.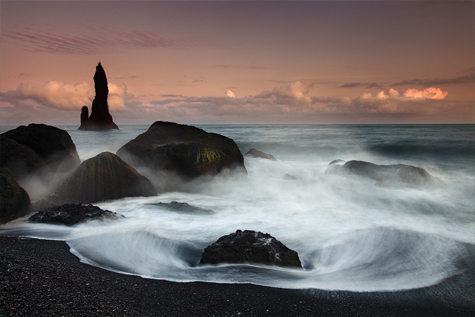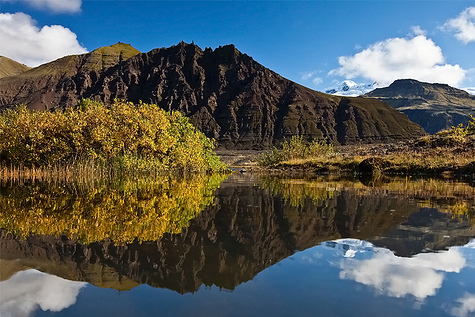 Day 6

After a good rest we start the day by visiting Svartifoss a waterfall surrounded by basalt columns before taking a tractor trailer ride to Ingólfshöfði to photograph friendly Puffins and not as friendly great Skua. We will spend the rest of the day/evening/night photographing glacier lagoons including the photogenic Jökulsárlón. We will overnight close to Jökulsárlón at a country guest house called Hali.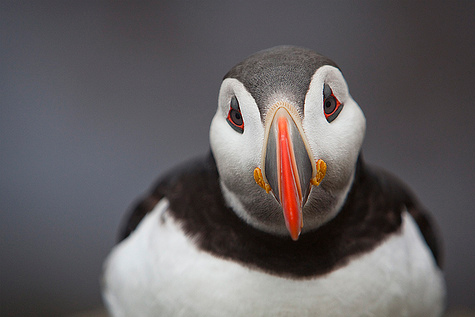 Day 7

More glacier lagoons as we will visit the off the beaten track glacier lagoons before heading further east to photograph the jagged peaks of Vestrahorn. We will have another go at Jökulsárlón in the evening in case we where not lucky with conditions the day before.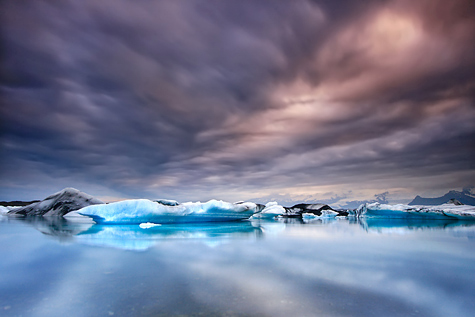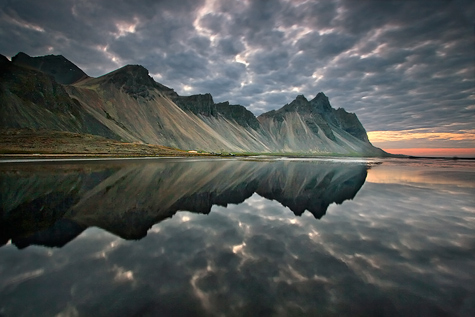 Day 8

The picturesque east fjords are calling us. We will stop at the more jagged coastal peaks of Eystrahorn and we'll stop in ample locations to photograph sea stacks, the winding roads and cascading streams down the steep terraced mountains.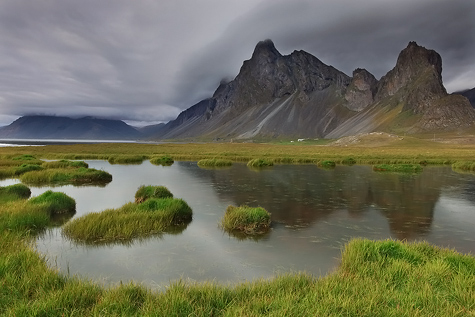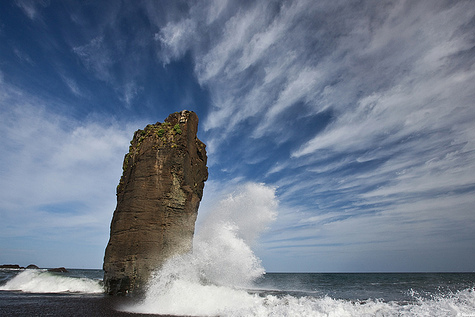 Day 9

Now in the north of Iceland. The iconic Highland destination of Askja volcanic crater lake awaits us after a several hour 4×4 drive into the heart of Iceland's NE-highland region, and there we'll also swim the Icelandic way in the Viti explosion crater that's still warm. We'll also photograph and drink the fresh spring water gushing from beneath Mt. Herðubreið, Iceland's most beautiful mountain according to many Icelanders.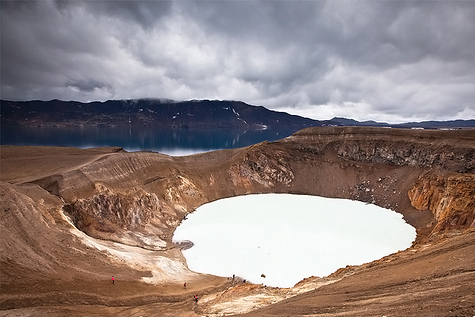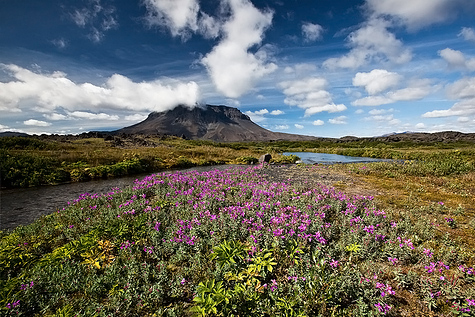 Day 10

In Mývatn we'll photograph geothermal steam vents, bizarre volcanic formations, and fields of craters that will make you feel like you are on the moon, then check out or swim in warm, silica-rich water with an amazing blue-colour, from a nearby geothermal power plant.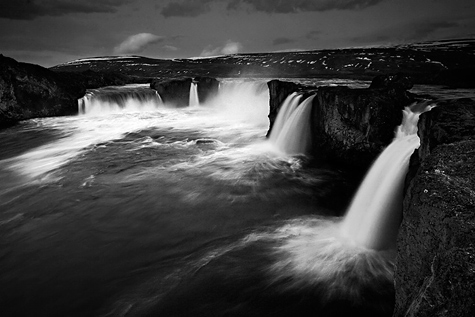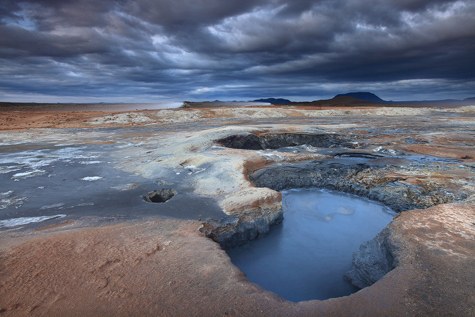 Day 11
In Icelands mini Grand Canyon we'll feel the plummeting power of Europes's largest waterfall by volume, Dettifoss along with its less known neighbor Selfoss and take some shorter hikes in the river canyon of Jökulsárgljufur National Park to see rock stacks dividing a the powerful Jökulsá á Fjöllum.We will drive passed the picturesque town of Húsavík before heading to Húsavík/Akureyri where we will have a good rest after the previous busy days.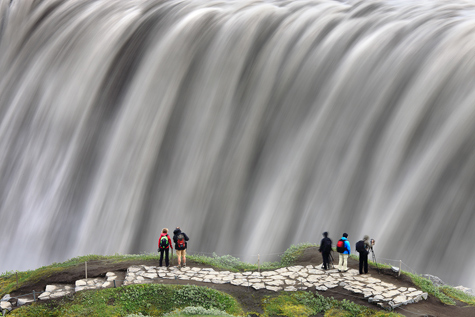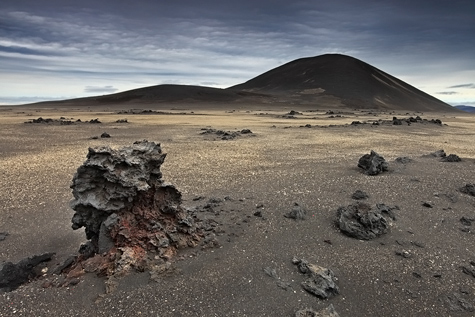 Day 12-13
We cruise the north coast of Iceland staying near the iconic Hvítserkur seastack and visit some remote waterfalls.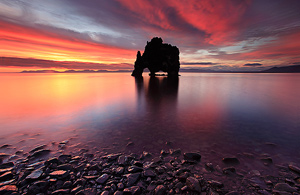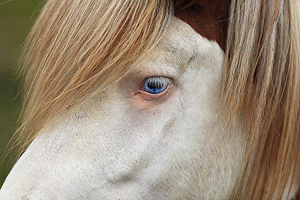 Day 14
Departure from Reykjavík to the airport. If you choose to stay longer in Iceland we can assist you with booking accommodation and advising on additional trips to take.